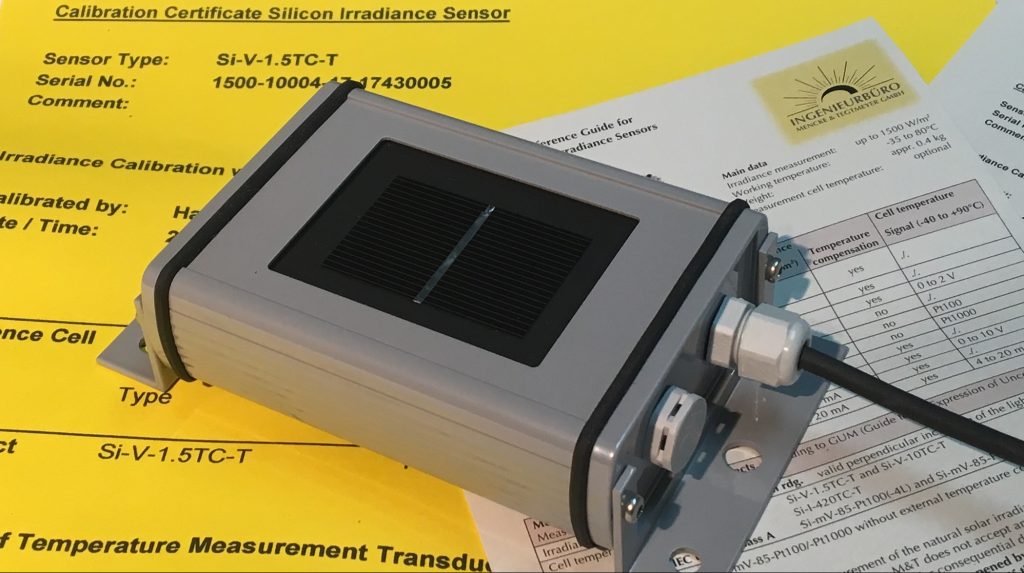 Application 
IMT Solar is a world leader for both the development and production of silicon irradiance sensors used for solar irradiance measurement. Since 1994, we have manufactured thousands of sensors supporting applications for Photovoltaic (PV) installation monitoring, PV cell research and development, PV IV curve measurement, solar thermal installation monitoring and meteorological stations. Like other IMT equipment, the success of our silicon irradiance sensors is due to our dedication to deliver a product that is cost-effective, reliable, durable and accurate.
Function
Our sensors use a high-quality monocrystalline solar cell connected to a high accuracy shunt. The low shunt resistance causes the cell to operate close to the short-circuit point.
To compensate for any possible measurement shifts caused by the temperature co-efficient relationship with the Isc., all of our silicon sensors with the part number extension of "TC" employ active temperature compensation.
The compensation is realized by using a specific temperature sensor laminated to the rear side of the solar cell. One of the key elements of the electronic compensation circuit design is very low power consumption. The current consumption of our Si-V-1.5TC-batt sensor which is powered by an internal lithium battery is only about 15 µA.
IMT silicon sensors are manufactured in many different configurations to meet the monitoring requirements of almost any system. Sensors are available with an external power supply (Si-V-1.5TC-batt has an internal power supply), with both analog and digital (RS-485) output signals and with or without a sensor output for cell temperature. Sensors can also be purchased with a pre-connected cable or with standard industry connectors for a range of applications.
All standard sensors are calibrated using a reference cell calibrated by PTB (Physikalisch-Technische Bundesanstalt). Poly cell sensors are calibrated using a reference cell calibrated by Fraunhofer ISE, Freiburg.
Mechanical Construction
Our sensors are built using a powder-coated aluminum case sealed to IP 65. The solar cell is embedded in ethylene-vinyl acetate (EVA) between glass and Tedlar™. The laminated cell is integrated into a powder-coated aluminum case. This configuration of the sensor is comparable to that of a standard PV module making the sensor an ideal choice for irradiance monitoring of commercial PV installations.
The electrical connection for the sensor is realized by an integrated cable or an IP67 rated connector. A cable length of 3 meters is standard for most of our sensors, however other cable lengths can be provided.
Cell Temperature Measurement
Our silicon sensors with a "-T" extension to the part number provide an additional signal output representing cell temperature. This temperature is very close to the PV module temperature when mounted on the same plane.
Silicon Irradiance Sensor Specifications

General Information
Solar cell: Monocrystalline Silicon (50 mm x 33 mm)

Operating temperature: – 35 °C to 80 °C

Electrical connection via shielded cable, length 3 m standard, or IP 67 rated connector

Case, protection mode: Powder-coated aluminum, IP 65

Dimension,Weight: 155mm x 85mm x 39mm, Approximately 350 – 470 g
Accuracy
Irradiance
Irradiance ±5 W/sqm ±2.5% from value; with temperature compensation, vertical light beam and AM 1.5
Temperature
Accuracy – for accuracy information please refer to datasheets.
Downloads

Solar Irradiance Sensors, Si series
Datasheet of our analog and digital Silicon Irradiance Sensors, Si series
Selection table for digital Irradiance sensors
Notes with the correct digital Si sensor and optional external sensor
Quick Reference Guide for analog Si sensors
short instruction manual for analog Si sensors
Quick Reference Guide for digital Si sensors
short instruction manual for digital Si sensors
Si-RS485, Specification of MODBUS Protocol
Description MODBUS protocol for Si-RS485 sensors
Si-MODBUS Configurator 0.23
Configuration tool for Silicon Irradiance Sensors with RS485 port and MODBUS Protocol including manual
Manual for the Modbus configuration software
Manual for the Modbus configuration software for Silicon Irradiance Sensors with RS485 port and MODBUS Protocol
Comparison table new and old Si sensors
Datasheet of our analog and digital Silicon Irradiance Sensors, Si series
Accessories:
Tamb-Si
External Ambient Temperature Sensor for connection at Si-RS485TC-2T-v
Weather Protection for ambient Temperature Sensor Shield Tamb-Si
Protection for Tamb-Si or external ambient Temperature Sensor of Si-RS485TC-2T
Tmodul-Si
External Module Temperature Sensor for connection at Si-RS485TC-2T-v
Vwind-Si
External Wind Speed Sensor for connection at Si-RS485TC-2T-v
Available Sensor Types :
Type

Measurment




Uncertainty




IEC61724-1

Supply

Temperature




Compensation

Irradiance Signal




0-1500 W/sqm

Cell Temperature Signal




-40-+90°C

Si-V-1.5TC

Class B

4-28 Vdc

yes

0…1.5 V

—-

Si-V-1.5TC-T

Class B

5.5-28 Vdc

yes

0-1.5 V

0-2 V

Si-mV-85

Class B

none

no

0-approx. 85 mV

–

Si-mV-85-Pt100 / -4L1

Class A

none

no

0-approx. 85 mV

Pt100

Si-mV-85-Pt1000 / -4L1

Class A

none

no

0-approx. 85 mV

Pt1000

Si-I-420TC

Class B

12-28 Vdc

yes

4-20 mA

–

Si-I-420TC-T

Class B

12-28 Vdc

yes

4-20 mA

4-20 mA

Si-V-10TC

Class B

12-28 Vdc

yes

0-10 V

–

Si-V-10TC-T

Class B

12-28 Vdc

yes

0-10 V

0-10 V

Si-RS485TC-T

Class A

12-28 Vdc

yes

RS485

RS485

Si-RS485TC-2T 2

Class A

12-28 Vdc

yes

RS485

RS485

Si-RS485TC-3T 3

Class A

12-28 Vdc

yes

RS485

RS485

Si-RS485TC-T-Tm 4

Class A

12…28 Vdc

yes

RS485

RS485

Si-RS485TC-2T-v 5

Class A

12-28 Vdc

yes

RS485

RS485
1 "-4L": Version with four wire connection of Pt100 / Pt1000
Notes about Digital Sensor:
2 for Si-RS485TC-2T: Fixed connected ambient temperature sensor  Pt1000 with 3 m cable
3 for Si-RS485TC-3T: Two connector for two temperature sensor (Tamb-Si or Tmodul-Si)
4 for Si-RS485TC-T-Tm: Fixed connected module temperature sensor Pt1000 with 3 m cable 
5 for Si-RS485TC-2T-v: Connector for one temperature sensor (Tamb-Si or Tmodul-Si) and one wind speed sensor (Vwind-Si)
Addendum -MB in type designation: Modbus protocol
Addendum -MT in type designation: M&T protocol