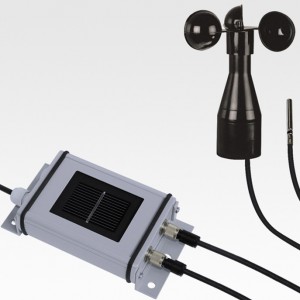 We offer you sensors for nearly every meteorological measurement parameter. We use only high-quality products from well-known manufacturers. Depending on your requirements, you can select sensors with many different specifications from our wide range of products. We offer everything from simple, inexpensive sensors to highly precise and extremely high quality sensors at very favorable price-performance ratios.
We offer individual meteorological sensors as well as a wide range of accessories, such as mounting systems / materials and earthing equipment.
Application
IMT Solar has launched a complete line of temperature sensors for use in long term performance monitoring of solar PV modules and systems. There is both a back of module temperature sensor and an ambient temperature sensor. Both models are now available in RS485 Modbus output.
Function
Our sensors use a high-quality monocrystalline solar cell connected to a high accuracy shunt. The low shunt resistance causes the cell to operate close to the short-circuit point.
To compensate for any possible measurement shifts caused by the temperature co-efficient relationship with the Isc., all of our silicon sensors with the part number extension of "TC" employ active temperature compensation. The compensation is realized by using a specific temperature sensor laminated to the rear side of the solar cell. One of the key elements of the electronic compensation circuit design is very low power consumption.
All sensors are calibrated in simulated sunlight against a reference cell of the same type. The reference cell calibration is periodically verified using a reference cell calibrated by Fraunhofer ISE, Freiburg.
Mechanical Construction
Our sensors are built using a powder-coated aluminum case sealed to IP 65. The solar cell is embedded in Ethylen-Vinyl-Acetate (EVA) between glass and Tedlar™. The laminated cell is integrated into a powder-coated aluminum case. This configuration of the sensor is comparable to that of a standard PV module making the sensor an ideal choice for irradiance monitoring of commercial PV installations.
The electrical connection for the sensor is realized by an integrated cable or an IP67 rated connector. A cable length of 3 meters is standard for most of our sensors, however other cable lengths can be provided.
Cell Temperature
The Si RS485-TC-T provides an additional signal output representing cell temperature.
Solar Irradiance Specifications
General Information
Solar cell: Monocrystalline Silicon (50 mm x 33 mm)

Current shunt: 0.1 O (TC = 20 ppm / K) for 1 V and 20 mA output sensors 0.12 O (TC = 20 ppm / K) for 10 V output sensors, 0.1 O (TC = 30 ppm / K) for digital output sensors

Operating temperature: – 35 °C to 80 °C

Electrical connection via shielded cable, length 3 m standard, or IP 67 rated connector

Case, protection mode: Powder-coated aluminum, IP 65

Dimension,Weight: 

155mm x 85mm x39mm, 400g
Accuracy
Irradiance
Irradiance ±5 W/sqm ±2.5% from value; with temperature compensation, vertical light beam and AM 1.5
Temperature Sensors
Options
Silicon sensor with shielded cable, 0.14 mm2, UV- and temperature resistant

Custom cable length

Version with waterproof connector
 Available Sensor Types:
Irradiance Sensors

Power Supply

Temp Comp

Output Format

Cell Temp Output

Si-RS485-TC-T-MB
12-28Vdc

Yes

RS-485 Modbus

Yes
Si-RS485-TC-2T-v-MB
12-28Vdc

Yes

RS-485 Modbus

Yes
 

 

 

 

 

Temperature Sensors

Type


Range

Output Format

Download

Tm-RS485-MB

Back of cell    
-40…+90C               
RS-485 Modbus                          
 

PDF

Tmodul-Si
Back of cell  
-40…+85C               
RS-485 Modbus                          
 

PDF

Ta-ext-RS485-MB

Ambient          
-40…+90C               
RS-485 Modbus              
 

PDF

Tamb-Si   
Ambient        
-40…+85 C              
RS-485 Modbus                      
 

PDF

Vwind-Si
Wind Speed
  0.9..40 m/s 
Reed relays, 2.5 Hz/(m/s)                          
 

PDF